Shopping Cart
Your Cart is Empty
There was an error with PayPal
Click here to try again
Thank you for your business!
You should be receiving an order confirmation from Paypal shortly.
Exit Shopping Cart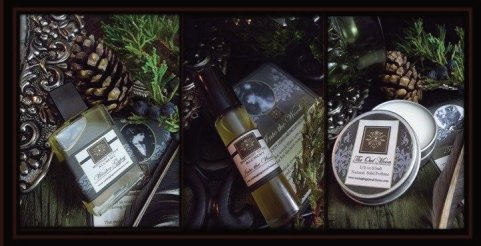 With the Winter Season close at hand and holidays just around the corner I thought I would get  a head start and release the Winter perfumes so that gift shopping early for these can begin.   Re-released are last year's winter scents of
"The Owl Moon
and
Winter Gypsy
which Winter Gypsy after December will become a permanent scent among the MGA perfumes (much to the delight of many).  A new perfume creation has just been listed here and on the
Etsy shop
, I introduce
" Into the Woods"
to you.This scent is for those who enjoy the outdoors the smell of nature. It is like that of  fresh turned earth,  the forest trees and  leaves,  the scent of the air right before the rain  mixed with a slight smokey incense smell of  burning wood embers like that from a campfire; a very mystic and ancient aroma . It was truly a very different creative scent path for me which came as a result of discovering a plant called creosote. I had a customer ask for a custom perfume and it was her request for me to use this in it as she said it reminded her of the desert and of her home which she missed so very much. I was excited to find it so this plant in dried herb form so easily and quickly fell in love with it. The only way to explain this is to say I found a plant that smells like rain.  This plant grows in the desert areas in the US from California, Arizona, New Mexico and on into Texas. I grew up in Texas and had seen this plant all my life but never knew what it was called or that it even smelled as wonderful and aromatic as it did…so sad I missed out all those years:(  Oh but  found it now and will have such  fun testing and making  new perfume oils  in the future! I must find a live plant to grow at home :) Oh and speaking of new perfumes... "Into the Woods" will not be  the only new perfume to be released before  winter,  I have created yet another scent  to be added in the next few weeks that will make up four scents for winter  that will make gift sets and sample boxes to match .  Look for those soon as well  :)
/