Shopping Cart
Your Cart is Empty
There was an error with PayPal
Click here to try again
Thank you for your business!
You should be receiving an order confirmation from Paypal shortly.
Exit Shopping Cart
| | |
| --- | --- |
| Posted on March 27, 2014 at 8:15 AM | |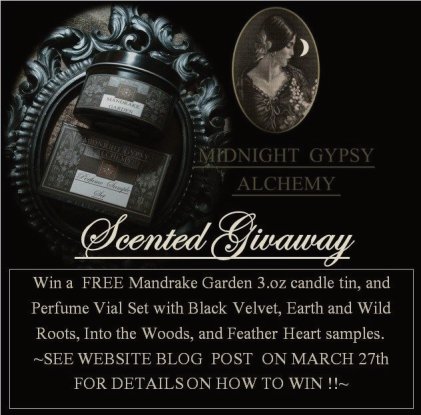 MGA is having a Scented give away Thursday, March 27th! Read this post first for more information on how to win!
I came across a pin on Pinterest the other day that stopped me in my tracks and took me back to a time in my life of things that I used to created pre- MGA .This pin led me  to my old blog from 2007 which I thought I had closed back in 2011 and to my surprise is this very much active. Oh my, did I go back down memory lane. You see many may not know that I used to make handmade art dolls under the name of "Gothic Southern Belle Art and Southern Gypsy Moon Art. I sold these on eBay for the longest time and all the pictures and post of every doll and creation I ever made is on this blog along with years of life events from, moving to babies, trips and family losses. I reminisced of thing years long since passed on this  for quite a while and revisited  the memories of creativeness that went into my dolls. I saw how my thoughts, taste and style has evolved but still somehow have stayed the same... not as dark minded as I once was. I was very much a Romantic Goth at the time who enjoyed Dark Victoriana decor and dress, was intoVampires, Victorian Spiritualism , Mourning ,the Macabre and Poison dolls and Little Widows who poisoned people with cookies and tea…yeah...wow! You can read and browse all this and see my old creation here at
http://gothicsouthernbelleart.blogspot.com/
but here is the question you must answer to win and what this give aways is all about .
Ok,here it goes. Many may also not know (there are few of my customers and followers that do) but not only did I make art dolls I ran another business too. My first perfume/ bath and body business that due to illness and changes in life, sadly I could not keep running .  I ran this business from 2003 to early 2008,  until I took on a new venture and opened MGA .
This name is  mentioned in a post on this blog somewhere, "WHAT WAS THE NAME OF MY OLD BUSINESS?  The first three people to post on MGA"s FaceBook page wall what the name of that business was, will receive a free 3.oz candle in Mandrake Garden and a Perfume Vial set with Black Velvet, Earth and Wild Roots, Into the woods , and Feather Heart samples. This is for one day only, today Thursday, March 27th and as soon as I have three different people post the name then the giveaway will be over. So, go to the blog mentioned above and search away.
Do be warned , it was years worth of blogging so it may take a while and you may find yourself, amused, amazed,when browsing the pictures of my old art dolls post and at times confused on some asking yourself "What the ..?"    Hey, what can I say? Creativeness has neither boundaries nor rules ...Good Luck!! ~Nina.
  https://www.facebook.com/pages/MidnightGypsyAlchemy/208486055835340
Categories: None
/